Included Services per person
1-Month-Pass at Hub Hoi An Coworking (24h Access)
1-Month stay at the Ricefield Homestay (distance: 250m)*
Private bedroom with ensuite bathroom
Breakfast at Hub Hoi An (Mondays – Fridays)
2 Airport pick up / drop off (Da Nang – Hoi An – Da Nang)
1 Bicycle for 1 Month
Hub Hoi An Community & Events
24/7 Access at Hub Hoi An
1 4G Simcard incl. 3GB Data valid 30 Days
High Speed Internet at Hub Hoi An
Unlimited printouts (b/w or colour)
Meeting Room due to availability
1 Drink of your choice per day at Hub Hoi An
Free water and Tea at Hub Hoi An
Payment in Cash (VND or USD), bank transfer (Vietnamese bank account) or Creditcard (+3% fee)
*subject to availability, valid until 31 January 2019 (last booking date is 1 January 2019)
Private bedroom at the Ricefield Homestay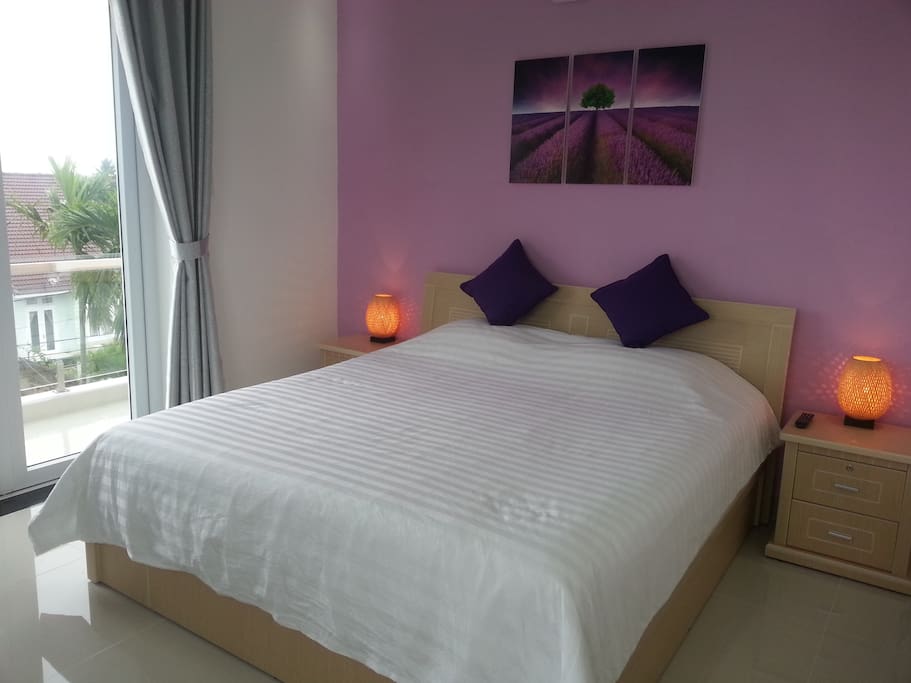 What the Hub offers you
Community of remote workers, digital nomads, local entrepreneurs and vagabonding freelancers
Professional work environment in a shared, green and inspiring workspace
3 different working areas: 360°-Garden View Glasshouse (A/C), Quiet Room (A/C) or our tropical garden
1 Meeting Room for private calls or interviews
Technical equippment like monitors, keyboards, mice and laptop stands
Social events like Pub Quiz, Movie Night, Hub Dinner or day excursions
Have a look in our open Kitchen
Our French and Vietnamese chefs buy daily fresh, healthy and seasonal food
We take care of your personal taste, diets and allergies
Do you wish something off the menu? Let us know, we are happy to make you happy
Daily community lunches
Always something sweet for you in the fridge
1 person in single private bedroom
$
917*
price for 1 person in private bedroom
30 days at Hub Hoi An
30 nights at Ricefield Homestay
*Normal price is 1,019 USD per person
2 people in double private bedroom
$
1,348*
price for 2 persons in private bedroom
30 days at Hub Hoi An
30 nights at Ricefield Homestay
*Normal price is 1,498 USD for 2 persons
My favourite coworking space and place to be in SE Asia 
Hub Hoi An has a great community vibe and the people there are amazing. Not to even mention the foods – each communal lunch for the three weeks I spent there were to die for. Lots of events to take part in or you can initiate your own, lots of board games and super caring and sweet owner and staff. I can't wait to go back!
Hub Hoi-An is sincerely the best and coziest co-working space i have ever been to! Spent three lovely weeks in Hoi An and this place became like home! Lovely people and great atmosphere for working and relaxing. Plus i still can't get over the community lunches!! The are sooo delicious! Was very sad to leave and i can totally see why people first go there for a day and end up staying for months! I will definitely be back! 
About Hoi An
Beach town in Central Vietnam
UNESCO World Heritage Site of the Old Quarter
White sandy beaches, lush green rice fields, nature reserves, buzzing city of Da Nang
You will find yoga, meditation & healing centres, Muay Thai boxing, vegetarian and vegan food, art & local craft
Directions
Closest airport is Da Nang Intern. Airport (DAD), which is an easy 40min. (25km) drive along the coast
Direct flights from Bangkok, Singapore, Hong Kong, Kuala Lumpur, Osaka, Seoul, Siem Reap, Taipei, Tokio
Check out our 27 pages Guide for Digital Nomads to Move to Hoi An! 
If you have any questions about Hoi An or our Coworking Space, please don't hesitate to ask here or drop us an E-Mail at hello@hubhoian.com. You will find a lot of information in our Guide for Digital Nomdas to Move to Hoi An.
Additionally, check out our FAQ and it is worth to visit us on Facebook or join our Community..
Hẹn gặp lại bạn ở Hội An [See you in Hoi An]